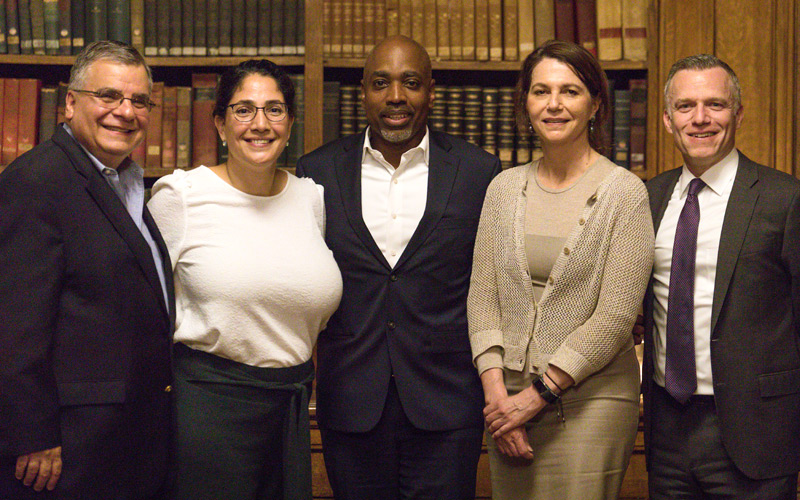 Brilla's Board of Directors is committed to providing the leadership and guidance necessary to foster a dynamic educational environment.
Executive Director, Credit Suisse Americas Foundation
Eric Eckholdt has served as the Executive Director of the Credit Suisse Americas Foundation since 2004 and oversees all Corporate Citizenship activities for Credit Suisse in the Americas region. Eric has led the development of a model where the bank's employees are central to this work. Annually over 70% of the bank's employees participate in its Citizenship programs, including in 2014 when over 5,000 Credit Suisse employees served as volunteers and provided almost 45,000 hours of service in 26 cities. The Foundation makes significant investments in a range of organizations whose missions are advanced by the support of volunteers. In addition, as a capstone of the service-oriented model, hundreds of Credit Suisse employees have participated in a distinctive Nonprofit Board Training program that facilitates skill-building and placement on nonprofit boards.
In 2009, Eric led the Foundation through a strategic review which expanded its historical focus on volunteerism – and introduced a new program area in education. This program provides support for ongoing operations and expansion at high-performing schools serving low-income children. Recognizing that effective teachers, principals, and school leaders are essential for systemic change, the program also directs support to organizations that address these issues. Eric began his career in banking and finance and worked at Credit Suisse between 1996 and 1998, followed by six years at the New York-based non-profit Prep for Prep. He holds a BBA in Economics and Finance from Loyola University New Orleans. Eric is a founding board member of Brilla College Prep Charter School, and he is also a board member of Philanthropy New York and serves as co-head of its Corporate CEO Roundtable.
Chief Administrative Officer, Big Brothers Big Sisters of New York City
Charles Bozian is the Chief Administrative Officer of Big Brothers, Big Sisters of NYC. Charles is responsible for all financial and administrative affairs of BBBS of NYC including: financial control and planning; treasury functions; information technology; risk management; human resources and benefits; legal affairs; and building operations. Prior to joining the agency, Charlie served as Vice President of Finance for Macmillan Publishing for nearly 10 years which capped a 25 year career in the publishing industry. Immediately preceding his position at Macmillan, Charlie was Chief Financial and Operating Officer of Columbia University Press, the NFP publisher affiliated with Columbia University for 6 years.
Charlie's commitment to working with youth is demonstrated by his ongoing involvement and volunteer efforts at St Ignatius Middle School in Hunts Point, Bronx and the Hunts Point Alliance for Children, which helps prepare children for academic success at every level in Hunts Point. He has also worked for many years with local charity efforts in the communities around his home in Northern New Jersey and has coached in youth sports programs for many years. He holds both a B.S. and an MBA in Finance from Fairleigh Dickinson University and completed a three year company sponsored executive development program at Columbia Business School.
Founder, De La Salle Academy
Brother Brian Carty grew up in humble circumstances on the Upper West Side of Manhattan. He was taught by the De La Salle Christian Brothers, a Catholic religious order founded to teach children of the poor and working class, from the fourth grade on. In 1961 he joined the Christian Brothers, dedicating his life to serving others. Brother Brian resurrected the Kelly School concept by founding De La Salle Academy as a private, independent school. Since its founding, De La Salle has provided a high-quality education to over 1,400 academically talented girls and boys from low-income families. Brother Brian's vision has created a unique place, mirroring the essence of New York City: a multi-racial, multi-ethnic environment, where each child's individual gifts are celebrated. Brother Brian is a founding Board member of Brilla College Prep charter school in the Bronx, and on the Board of Consultors of Manhattan College: School of Education.
He also serves on the Board of the Summer on the Hill program at Horace Mann, on the Board of Cristo Rey New York High School, and is a Chairman Emeritus of the Franciscan Community Center, a multi-service social service agency, which he co-founded in 1991 to serve the poor people of his old neighborhood on the Upper West Side. He is a past Trustee of St. Hilda's & St. Hugh's and of NYSAIS (New York State Association of Independent Schools). In 2007 Brother Brian was named a Pepsi Freedom Hero. In 2008 he was awarded the Ellis Island Medal of Honor and the Catholic Guardian Society and Home Bureau's Humanitarian Award. La Salle University conferred an honorary doctorate on Brother Brian at its May 2013 commencement.
Partner, Pillsbury Winthrop Shaw Pittman
David Ingles advises clients on a broad range of complex transactions in the banking, consumer finance and financial technology industries. David has substantial experience advising financial services companies and private equity firms in public and private mergers and acquisitions, financing transactions, consortium deals, and other complex corporate transactions.
He frequently has represented financial institutions in distressed and contested situations, including unsolicited offers, takeover defenses, equity recapitalizations, bankruptcy auction transactions and activist shareholder situations. David was selected for inclusion in Chambers USA 2020 and is recognized as a leading attorney in financial institutions M&A.
Senior Finance/ Accounting Professional
James Jones is a Senior Finance and Accounting Professional. Throughout his 25 years of corporate business experience, James has held various finance and business management positions in financial services. His broad and extensive experience includes financial management, budgeting, auditing and operational improvement.
James holds a BA in accounting from Syracuse University and is licensed as a Certified Public Accountant in the state of New York. He lives in Maplewood, NJ with his wife, Salma and daughter, Jessica.
Editorial Board Member and Americas Columnist, The Wall Street Journal,

Mary Anastasia O'Grady writes "The Americas," a weekly column on politics, economics and business in Latin America and Canada that appears every Monday in the Journal. Ms. O'Grady joined the paper in August 1995 and became a senior editorial page writer in December 1999. She was appointed an editorial board member in November 2005. She is also a member of the board of directors of the Indianapolis-based Liberty Fund. In 2012 Ms. O'Grady won the Walter Judd Freedom Award from The Fund for American Studies. In 2009 Ms. O'Grady received the Thomas Jefferson Award from The Association of Private Enterprise Education.
In 2005 Ms. O'Grady won the Bastiat Prize for Journalism awarded by the International Policy Network for her articles on the World Bank, the underground economy in Brazil and the bad economic advice the U.S. often gives to Latin American countries. In 1997 Ms. O'Grady won the Inter American Press Association's Daily Gleaner Award for editorial commentary. Ms. O'Grady received a bachelor's degree in English from Assumption College, an M.B.A. in financial management from Pace University and an honorary doctorate from Francisco Marroquin University in Guatemala City.
Producer, National Geographic Television International
Richard Ramirez is currently a Producer for Showtime working on a weekly series following the current presidential campaigns. Prior to this post, he was employed by NBC, throughout his career his work has appeared on several national media outlets including: CNN; MSNBC; The Discovery Channel; The National Geographic Channel; The Weather Channel; and the Biography Channel. In 2011, Mr. Ramirez was selected for the prestigious Council of Urban Professionals Fellowship, a rigorous ten-month leadership development program that includes skills-based training and networking opportunities to prepare participants for impactful civic involvement. Prior to his career in television production, he worked in education.
Initially teaching high-poverty 5th grade students as a Teach For America Corps member, he rose the ranks of that organization serving as School Director, Program Director and eventually Director of Talent Recruitment. Besides classroom teaching, his roles at TFA included coaching and mentoring teachers, as well as creating and implementing regional and national recruitment programs. Mr. Ramirez was an integral part of launching Brilla College Prep, a high performing charter school in the South Bronx. He continues his service to the school by serving as Secretary of the Board of Directors.
President and Chief Operating Officer, Children's Scholarship Fund
Darla Romfo serves as President and Chief Operating Officer of the Children's Scholarship Fund (CSF), a nonprofit dedicated to providing partial scholarships for low-income children in grades K-8 to go to private school. Immediately prior to joining CSF, Ms. Romfo practiced law in both the public and private sectors. She worked on Capitol Hill from 1993 to 1999 serving as Legislative Director and Counsel to Senator John Breaux of Louisiana and Legislative Director and Tax Counsel to Senator Kent Conrad of North Dakota. She worked closely with both Senators in their roles as members of the Finance Committee and with Senator Breaux as a member of the Senate Democratic Leadership, and as Chairman of the Bipartisan Commission on the Future of Medicare. She also worked closely with Senator Breaux on the National Commission on Retirement Policy and helped develop a comprehensive Social Security and Retirement Reform Bill.
Previously, she was an attorney in private practice specializing in tax law. Ms. Romfo is a nonprofit fellow in the Young President's Organization, as well as a frequent speaker on education and school choice. Previously, she was on the board of the Geneva School of Manhattan, a private, non-sectarian school with a classical curriculum. Ms. Romfo grew up on a farm in North Dakota and graduated from the University of North Dakota with degrees in political science and accounting. She is a CPA and received a law degree from George Washington University.
Research and Professor at University of Connecticut; English as a Second Language and Bilingual Consultant
Elena Sada earned her PhD candidate in Curriculum and Instruction at the University of Connecticut and teaches  courses on language diversity and literacy in schools and classrooms. She is currently conducting research on Language development in K-12 education and the identity of immigrant children. She is a former English as a Second Language and Bilingual teacher and School and District administrator. Ms. Sada spent most of her years as a teacher and supervisor in New York–particularly in East Harlem, in Washington Heights, and in New Rochelle. More recently, she became the World Languages Supervisor for public schools in West Hartford, CT. Ms. Sada has an undergraduate degree on Education from the Anahuac University in Mexico City, and two Masters of Science degrees–one on Administration and Supervision of Schools from Hunter College, City University of New York; and, a second one on Theology, from the University of Dallas, Texas. 
She has been the recipient of the Teacher Leader award, in New York City–which earn her the Supervisory and Administration scholarship; Neag School of Education Almuni Board award and the John N. Leach Fellowship, and Yaoxin and Ethel W. Rong awards, at the University of Connecticut, the for her dedication to her field and to education. Ms. Sada has presented nationally and internationally on several topics, some of these are: Second Language Acquisition, and Effective Programs for Bilingual Learners. Some of the conferences where she has presented are: the New York State Bilingual Association Annual Conference, as well as the Lands of Freedom Conference at the University of Miami.
Stephanie Saroki De García
Managing Director, Seton Education Partners
Stephanie Saroki de García is co-founder and Managing Director of Seton Education Partners. She helped launch Seton in 2009 to give every child, regardless of background, an opportunity to have an academically excellent, character-building, and vibrantly Catholic education—and ultimately, a chance to live up to his or her God-given potential. Seton currently serves nearly 5,000 predominantly low-income and minority children in seventeen schools and ten cities nationwide. Scholars in Seton's schools are achieving academic growth results in mathematics and reading that match or beat the nation's most acclaimed urban charter schools. Most recently, Stephanie launched and for over five years directed the Philanthropy Roundtable's K-12 education programs, where she spearheaded a series of conferences, strategy sessions, and publications on breakthroughs in education philanthropy.
Previously, Stephanie was a Teach for America corps member in Oakland, California, where she taught high school English. She attended Harvard's Kennedy School of Government as a dean's fellow. While completing her master's degree in public policy at the Kennedy School, Stephanie worked at the Office of Management and Budget. She received a bachelor of arts degree in rhetoric from the University of California at Berkeley. Stephanie lives in San Diego, where she is a proud mom to two great children.
President, Welsh, Carson, Anderson & Stowe
Founder and Managing Director, Hunts Point Alliance for Children